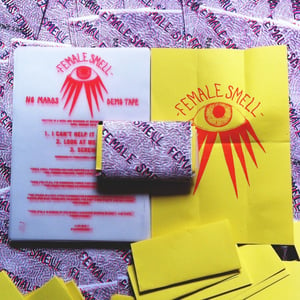 £

3.00 - On Sale
Female Smell are having more fun than you and making a way better noise whilst they're at it. A who's who of nobodies, dead beats, and duddards, stricken with addiction and bad attitude, Birmingham's Female Smell bring you spite fuelled, fun, noisy, messy, raw garage punk rock with a harsh metallic, rage filled edge.
Their 'No Mards' Demo cassette, released on DLPR Records Monday 3rd June, was written in a week, shortly after forming in January 2013 and was recorded in Muthers Studio, Birmingham, Home of Metal.
Cassette Info:
//Prison specification, all clear cassettes
//Limited to 150 tapes
//The first three Female Smell songs
//Free download code sent with cassette
//Riso print artwork, designed by the incredible Tara Hill (http://tfhtfh.tumblr.com)
//Riso print opaque inlay and Female Smell mini-poster
//Postage included
Track listing:
1. CAN'T HELP IT ANYMORE
2. LOOK AT ME NOW
3. SCREW
DLPR 006 – Released on 03.06.2013
For different payment methods or international shipping not detailed below, please email meeshwood@me.com for a quote.