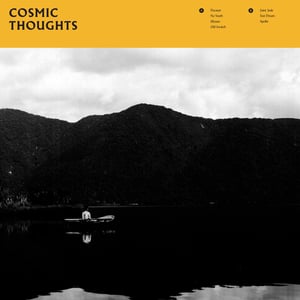 £

10.00
Cosmic Thoughts bring you their first full length, self titled offering this May, co-released by Hot Salvation, Cult Culture and DLPR Records. The natural follow up to their self recorded demo 'No Youth', the five uncompromising old punks bring you seven newly realised tracks on high quality 180g vinyl, with matt-reverse board printed sleeve and digital.
Described by Daniel P. Carter as 'Sonic Youth with a touch of Fucked Up', Cosmic Thoughts sound urging and day dreamy, spaced-out yet punchy, drawing heavily on mid-to-late twentieth century pop and indie sounds.
The tracks vary from 'Decayer', driving, layered and dense post-punk offset against the cold, aggressive post-hardcore of 'Saint Jude', anchoring the more abstract, brooding ideas of the hypnotic track 'Ulysses', leading into 'Apollo's' contrasted, thumping art-pop. The beginnings of repeato-instrumental experiments shine through on 'Test Dream' and 'Old Scratch' balancing a record that is deeply reminiscent whilst striving, optimistic and brightly propelling Cosmic Thoughts take on 'punk' forward.
Serene, springy and upbeat post punk indie, with dark, sweeping, omnipresent deep moods throughout, this record is a milestone in the birth of Cosmic Thoughts and pushes them out to a wider audience. Catch them at upcoming shows this Spring showcasing their new material.
Digital code will be sent with record.